The pack and ship sector is thriving, and with even more growth projected for 2022, now is a good time to capitalize on the booming service industry. Here are a few reasons to consider a new career as a business owner in the pack and ship business.
Be Your Own Boss

If you are driven to become a business owner, then franchising with Postal Connections/iSOLD It is the path for you to consider. Not only do you get to work for yourself, but our franchisee support system will provide you with guidance to meet your business goals. This is a flexible franchise model for you to develop local business and make the decisions.
Our experienced management team plays a key role in providing franchisee assistance every step of the way, from opening support to marketing and operational strategies. Postal Connections functions under the focused operating values of Trustworthy, Friendly, Savvy and Leading-Edge Service Delivery; we are a business for outgoing, thoughtful individuals who are happy to solve the logistical challenges of others.
Diversify Your Revenue
Having a reliable and steady income is a high selling point for any career, and we provide a variety of profitable services all under one roof, meaning more revenue potential for our franchise partners. Essentially, you'll have a basket of services people need and many reasons for customers to come to your service center. The marketplace is coming our way as forces of change accelerate with people working from home, retail-driven ecommerce, as well as online security concerns and complexity of many tasks. We've become the logistics service solution to digital work and ecommerce participants.
Our franchise model is designed to generate excellent margins with only limited inventory, carrying costs and staffing requirements. Postal Connections enables flexible revenue opportunities when it comes to accommodating franchisees including locally under-served services such as freight, computer repair, online eBay sales assistance, U-Haul Rental, tax service in season, choices of major parcel and document carriers and more. Our franchises excel at delivering in-demand services to their communities.
Year-round Business
While other industries were hit hard in the pandemic, the pack and ship industry has flourished, adjusting to the "new normal" of consumer behaviors, both in online shipping and face-to-face customized service. By leveraging specialized software platforms, Postal Connections franchisees can deliver rapid, accurate and modern, solutions for tasks that customers are unfamiliar with or would rather not do themselves. Our business is delivering convenience and reliability.
Our brand has continuously met the needs of its communities, and the nation's as well, throughout these changes. As a community retail center for mail, packaging, shipping and business services, we provide an appealing business model that typically enables low occupancy cost. We carefully analyze marketplace traffic, cost per square-foot and use limited space requirements. Another cost control measure is operating with a small, efficient staff, often as a family business.
Specialized to You

We work with our franchisees to help them meet their business needs. Postal Connections pays close attention to cost control to help franchisees hit the ground running from the start, including site selection analysis, review of space lease, referral to trusted funding sources, on-site training, equipment provided and operating supplies with advantageous costs including shipping accounts with all carriers. We manage the interior buildout of the service center, provide opening marketing materials and publicity; all part of a fast-tracked start-up.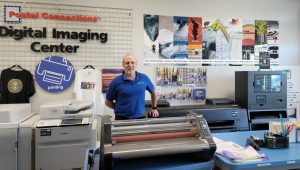 At Postal Connections, we value our former and active servicemen and women. We enjoy teaming up with veterans as franchise partners, extending the opportunity to take their career into their own hands and benefit from the trusted model that Postal Connections has built over the years. There is a special franchise fee discount of 20% for veterans and we highly appreciate the aspects that make them great franchise owners.
A Proven Franchise Model

The Postal Connections franchise model is proven to work. Our numbers speak for themselves – we achieved record sales performances with an average increase of 18.4 percentage points in all service centers opened and operating from January 2019 to December 2021. We offer a franchise business model at a reasonable cost and the opportunity to locate in the community you choose to live.
If you're ready to take charge of your future and explore becoming a franchisee with Postal Connections your next step is to reach out to us today.