Our Commitment to Service
At Postal Connections, we are the antidote to an all-too-common phenomenon in commerce: shrinking, and often, near non-existent customer service. Our Postal Connections stores, operated by local business owners, serve their neighbors with a personal touch, convenience and reliability.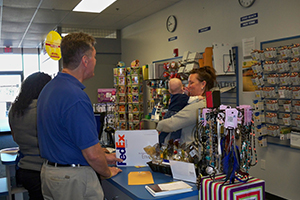 Our Company and Franchisees are guided by a set of business operating values—trustworthy, friendly, savvy and leading edge—that differentiates our performance in serving customers and each other.
Our stores are the "back-office" for small business people and an invaluable time saver for households on the go. We "become" our customers' personal mailroom, printing department, gift shop, packer and shipper, outpost for passport photos, and communication center where we do everything from notarizing documents to receiving personal and business faxes. We even help people sell unneeded items online turning them into cash.
We can ship, we can receive, and we can ensure safe delivery of items both large and small to anywhere in the world. Whatever the task or need, our customers trust us to do it right.