Selling your items online can be a great convenience, but as with all other monetary transactions it is essential to remain vigilant in taking actions so you are not getting scammed. As consumers adapt their selling criteria and preparations, scammers change their tactics too. Staying updated on the safest online selling practices can save you time, money, and avoided frustration.
The iSOLD It service, offered at select Postal Connections service centers nationwide, provides customers with an outlet to safely and easily sell items online. We want to make online selling on eBay a painless process, which is why we inspect the item's condition, research the value, photograph and list the item for the customer. We also share the most current safe online selling practices with our franchisees, who also put to work their own knowledge on the issue to assist our customers.
One example where our diligence paid off was at our Southeast Bend, Oregon location, where manager Nick Pierce noticed two separate instances of the same scam at his store. Luckily, Nick was able to notify the sellers of the likely scammer, and avoid the loss of money for both parties involved. To hear the full story, check out the news piece that ran on KTVZ: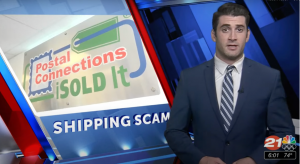 To ensure your online selling is safe and profitable, here are a few of the best practices Postal Connections iSOLD It follows:
Review the Seller/Buyer's History
When possible, through the marketplace you're utilizing, check the seller or buyer's profile for any red flags in their sales history. Multiple spelling errors, poor reviews, or links to websites with little information will tip you off that this individual may try to scam you if you follow through on the conversation to sell an item.
Only Provide Required Information
If a buyer is asking you to provide unnecessary information to complete a transaction or is asking for unreasonable requirements, do not complete their request. Some scammers like to ask for gift cards as a form of payment or ask the seller to jump through pointless obstacles that involve you putting more time and energy into this transaction than necessary.
Analyze the Way in Which the Buyer Contacted You
If the buyer reached out to you seemingly out of nowhere and is expressing that it is an emergency to complete this transaction, it is likely a scammer. Scammers try to call in favors or explain why they need the transaction to happen urgently, but this a tactic they use to make sure you don't have time to question their authenticity. Take your time and verify the necessary information to go through with the next steps of the sale.
These are just a few ways to prevent unwanted scamming in your online selling transactions and practices that we use to certify our customers aren't walking into the ecommerce world with no understanding. Our customers selling experience through the iSOLD It service runs smoothly with the help of our dedicated franchisees who also capitalize off the ecommerce business.
Interested in learning more about the Postal Connections brand and our franchise opportunity that is adapting to online selling trends, visit our franchise website.