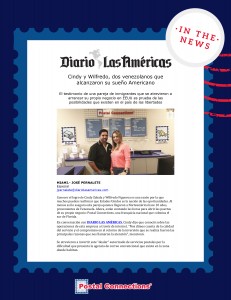 Postal Connections continues to prove itself as a franchise opportunity that provides entrepreneurial experiences for qualified, motivated individuals who are committed to enriching their communities with enhanced business services.
Recently, Postal Connections franchisee duo Wilfredo and Cindy Figueroa were featured in Spanish-speaking, Miami-based publication Diario Las Americas. The Figueroas shared their professional and personal backgrounds, their journeys to entrepreneurship and why they chose to take this important step into business ownership with Postal Connections.
Postal Connections franchisees are regularly sought out for their expertise in the small business an entrepreneurship trends and news of the day – in fact, all Postal Connections franchisees have access to multi-level public relations support to help get their names out there and bring customers in the door.
Click here to read the full story on Diario Las Americas. For more information about Postal Connections franchise opportunities, click here.