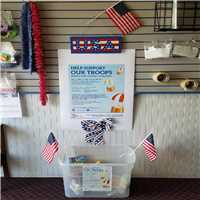 Reflecting its support of the military and veterans, Postal Connections is celebrating the success of its second annual Military Moments donation drive – a nationwide initiative resulting in the shipment of more than 600 pounds of care packages to military personnel.
In honor of the nationally recognized Military Appreciation Month, Postal Connections locations across the country participated in the brand's philanthropic efforts to gather much-needed items for military members serving overseas and on the home front.
Throughout the entire month of May, the pack and ship service centers accepted hundreds of donations from local residents, businesses and community members to create large care packages for men and women stationed at select military bases. Among the donated items were a variety of healthy snacks, drink mix packets, microwavable food, non-perishable food and essential toiletries.
"There are countless men and women who fearlessly defend our country day in and day out," said Fred Morache, COO of Postal Connections. "Sending care packages with items we often take for granted is a simple, yet a meaningful way to show our utmost appreciation for those military members who are making the ultimate sacrifice. The impact Military Moments can have on our troops will continue to grow as we actively engage with Postal Connections' communities and rally for their support."
Adding to the donation drive's significance, Postal Connections also hosted a month-long social media contest, which encouraged the community to share a photo of their family members, loved ones and friends that are serving or who have served in the military with the hashtag #MilitaryMoments. The selected national winner received a $100 Visa gift card. Taken together, the brand's call to action garnered positive awareness about Military Appreciation Month and generated media attention throughout the country.
As a testament to Postal Connections' year-round commitment to the military community, the franchise concept offers significant discounts on the brand's franchise fees to military veterans and spouses in conjunction with VetFran, an initiative through the International Franchise Association. The incentive encourages veterans to seek out franchise opportunities, while making business ownership an obtainable goal.

About Postal Connections
Founded in 1995, the Postal Connections franchise network was bought in 2007 by Andy Thompson and Fred Morache who solely own the company and in 2009 they bought the iSOLD It franchise network. To learn more about Postal Connections, visit www.postalconnections.com or call (619) 294-7550. For more information on Postal Connections franchise opportunities, visit www.postalconnections.com/franchise-opportunities/ or call 1-800-POSTALS (767-8257).