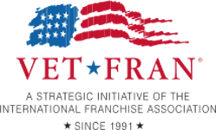 As part of the Postal Connections system, one of our top priorities is the entrepreneurial success and satisfaction of our franchisees. We do everything in our power to ensure that each franchisee with Postal Connections has access to the tools necessary to live out their dreams of business ownership to the fullest.
To this point, Postal Connections has joined forces with VetFran, the leading source of resources for veterans and veteran spouses entering the franchise industry, to drive the expansion of Postal Connections throughout the nation.
"We have the utmost respect for our military veterans and have found that the skills they learn while in service are extremely complementary to franchising," said CEO Fred Morache. "A strong work ethic, the drive to succeed, the ability to follow a proven system and a teamwork attitude are just some of the qualities that put veterans ahead of the game when it comes to franchising."
Postal Connections offers a 50 percent discount on the brand's franchise fees to military veterans and spouses in conjunction with Vet Fran, putting business ownership even closer within grasp. Postal Connections Express offers a 25 percent discount.
For more information about Postal Connections franchise opportunities, click here.