Need to send a package to Kazakhstan or a set of china to Great Britain?
Postal Connections has done that and lots more. The store at 5707 Red Arrow Highway offers a wide range of services, including printing, internet services, renting mailboxes, photocopying, key making, selling packaging supplies and shipping.
Diane Eaton took an indirect route to owning the business, which she bought in 2010 from Joe Killian.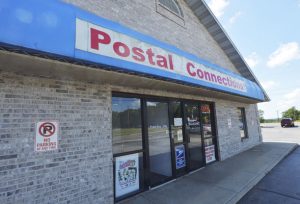 Killian opened the franchise in 2007 in the strip mall by Martin's Super Market at John Beers and Cleveland Avenue. When Martin's tore down the mall in order to build a new supermarket on site, Killian moved Postal Connections to its current location in 2009 – in the retail complex at the southeast corner of John Beers Road.
Eaton said she was a registered nurse at the former Memorial Hospital in St. Joseph in the 1970s, then worked for Health Care at Home, until 1996. She then helped her husband, Tony, with his business selling tool and die making equipment.
But then an accident put Tony in a wheelchair and forced him to close his business. As a result, Diane was home with him for several years.
The Eatons knew Killian and had helped him at Postal Connections. Killian also operates Light on the Hill Business Services, which he wanted to focus on.
"He said, half-jokingly, 'You want it?," Diane Eaton said, referring to Postal Connections. "I don't know how long we thought about it, a few weeks, a couple months."
She spent time at the store working with Killian, and after the purchase, he helped her.
Killian was the lone worker at Postal Connections and when Eaton took it over, she was alone.
But she now has two employees, Dave Plumhoff, who works full-time, and Sherry Wright, who is part-time. In addition, Tony Eaton works from home doing the paperwork for Postal Connections.
The store is open weekdays from 9 a.m. to 6 p.m., and Eaton said she's usually there the whole time, while Wright staffs it on Saturday, when it's open from 9 to noon.
One unique service the store offers is building wood crates to ship items too big or too heavy for corrugated cardboard boxes, and arranging the shipping.
Furniture is a common item to go in the wood crates, but there's also been an exercise machine, a removable car hardtop and a set of china that went to Great Britain.
"We heard back, and (the dishes) arrived just fine," Eaton said.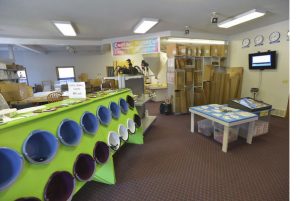 Postal Connections ships most packages by UPS and FedEx, but for international shipments, DHL is used most often. There was the package to Kazakhstan, a country that borders Russia on the south. More frequent, Eaton said, have been shipments to several countries in Africa, plus India, Saudi Arabia, Great Britain, France, Switzerland, Australia, Canada and Mexico.
Businesses and residential customers can have packages delivered to Postal Connections for pickup. An employee signs for the package and then the customer is notified to come get it.
Postal Connections is a franchise, with the parent company based in Frisco, Texas.
Despite typically working 50 hours a week, Eaton said, "This is kind of fun. You meet a lot of people … you work with great people."
At 62, she said she's looking ahead to retirement, but not soon.
"It's a couple of years down the road yet."