Family-owned franchise location making strides with a focus on quality customer service
Behind the counters in a penned off area of Postal Connections, you'll find a pair of giggling twin three-year- old boys, Henry and Hayden, the store's somewhat unofficial mascots and greeters.
The boys, sons of owners Adrienne and Seth Boynton, have spent their daycare years alongside family members in the postal box, shipping, printing and gift store. Their grandparents, Tom and Cherie McNabb, are also part-owners of the shop, which the family bought in 2015 as a way to keep everyone closer together.
"I used to ship from the store all the time before we owned it," Cherie McNabb said. "At the old location though, half the lights were out, they weren't investing in shipping boxes. You could tell they wanted to sell. At the time Adrienne was at home with the boys, and I thought this would be a way for her to go to work with the family."
And when she heard that the price tag for the franchise agreement was just $15,000, she realized it was far too good to pass up, McNabb added.
Then about a month after the franchise purchase, the family decided to move the shop to a new location, spending about $100,000 on the build-out at 7720 NE Highway 99, Suite D.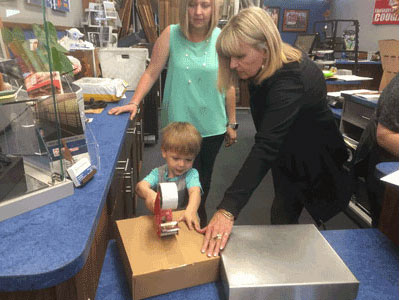 "We bought it in October 2015 and we took it over," Adrianne Boynton said. "It was open for more than 10 years before that. I was a stay-at-home mom and I knew if I was going to buy a business it was going to have to be one where the boys could come to work with me, so this was perfect."
To some degree, the boisterous three-year-olds have even become an attraction to visiting customers.
"A lot of people like that they're here," Boynton said. "They come back and visit. We want to be kind of like a Cheers bar – where people come in and hang out for a while."
Still, the postal store model isn't all roses. Competition from Amazon.com – and the free shipping for customers who use its Prime service – has made a dent in the smaller packing and shipping market, McNabb said.
"People order everything online now," McNabb said. "We still get shippers, but with the Amazon return policy for Prime members, we're not getting nearly as much as before."
Being able to provide shipping with all the major postal carriers – UPS, FedEx, DHL and the U.S. Postal Service – helps Postal Connections somewhat because customers like the variety. But it's still a shrinking part of the business, McNabb added.
To counter that, and bring in more family and friends, the store has instead diversified into locally-made gifts and products – a trend that's likely to continue in the future, Boynton said.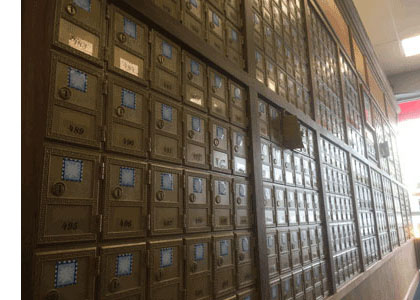 Sashaying through the offerings, Boynton pointed out the store's line of lotions made in Fife, cutting boards made by her husband and father (Seth Boynton and Tom McNabb) – who also have their own woodshop, kids books from Hazy Dell press, greeting cards and dolls made in Oregon and Washington and, last but not least, a host of knitted booties, egg covers and other items made by Boynton's 93-year-old maternal grandmother.
"We really are a family business," McNabb said. "It's really important to us to not just buy things made in China. We pride ourselves on being very local and supporting other local businesses."
The company is also doing well selling large format printing services of custom posters, images and art, she said.
The new location has helped bring in more foot traffic, especially with a Starbucks anchoring the small strip of stores it's attached to, said Katelyn Preuss, the store's only employee outside of the family. Preuss also worked at the shop under the previous owners.
"It's better where we are now," Preuss said. "People are more interested when they come in. There's more to look at. It was very bare at the old place. Now we have more foot traffic and a lot more options."
Customer service is also a big focus at the little shop. Preuss, for example, makes a point of memorizing the names of every single customer that has a postal box with the company. The family also tries to make the store a friendly environment where visitors can chat, relax and browse.
"We get a lot of customers through word-of-mouth about our customer service," Boynton said. "We have Facebook, Instagram as well, where we reach out. We've also tried coupons in the past, but it wasn't very successful."
Despite not having much of a marketing budget, the small business is still doing well. "We're trying to double what the old owners did revenue-wise," Boynton said. "We're getting there, but we're not quite there yet."
Featured on Vancouver SW Washington Business Journal: