Meet Ron Bishop, owner of Postal Connections-Southwest Boise and a proven retail industry leader. Ron launched his Postal Connections location in early 2019, leveraging a professional background that includes more than two decades of experience managing multi-unit retail divisions regionally throughout the western half of the United States. And, while his background includes areawide management with Hobby Lobby, Savers | Value Village, The Walking Company and Payless, Ron gives credit to Postal Connections for standing out above larger U.S. retailers. He truly became interested in Postal Connections because of the brand's customer-centric focus, which he acknowledges as being a competitive advantage over other retail postal and shipping companies.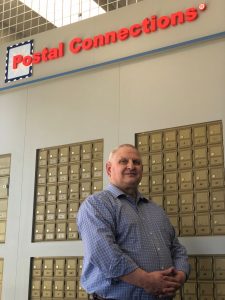 Through the guidance of the Postal Connections corporate team, which includes postal and retail shipping industry icons Fred Morache and Andy Thompson, both of whom have been leaders in the industry since its inception more than three decades ago, and field support, Ron transitioned seamlessly into Postal Connections franchise ownership. He gelled instantly with the business model and his business' results have been a reflection of his solid progression into entrepreneurship. Ron's sales have consistently grown month over month, leading him initially to break even in the first six months of his Postal Connections ownership, and now positioning him regularly as a top performer in the franchise system.
Fitting well with the Postal Connections business model as a franchisee is not a surprise to Ron or the company's leadership. This business leader sought to join a proven franchise company and industry that allowed him to serve his community. Postal Connections felt like the obvious choice to Ron.
"After experiencing the business solutions that Postal Connections offers firsthand as a customer, I knew I wanted to provide those same services to people throughout Boise," said Ron. "Postal Connections franchisees go above and beyond to treat people as people, instead of as transactions."
Ron's desire to become a franchisee pushed him to work with Postal Connections' preferred lending partners to launch the business. He was able to secure a Small Business Administration (SBA) loan to cover many of the costs of starting the business. Having those relationships in place for aspiring franchisees is a key benefit of joining the Postal Connections franchise system.
Today, as Ron looks back upon his decision to enter the world of franchise ownership with Postal Connections, he says he has no regrets. Six months after opening, Ron broke even on his initial investment and he has driven continuous success ever since. During the 1st six months of 2021 vs. 2020, Ron has increased sales 75% over the prior year. He says the franchisee support he received from Postal Connections was extremely beneficial as he got his footing as a business owner and it remains the same today.
He is forever thankful that Postal Connections is a resilient business. At the height of COVID-19, Ron's location remained open due to Postal Connections' designation as an essential business. Amid an explosion of e-commerce, business accelerated in 2020 and now in 2021, and Ron projects continued growth.
"Knowing that I was able to help people through the COVID-pandemic is a great feeling. As an essential business, we were able to assist those working from home with a variety of services," Ron said.
For him, assisting his community and making people happy is what matters most, and he's happy Postal Connections gives him that opportunity as a business owner.
Learn more about franchising opportunities with Postal Connections.
Are you still learning about franchising and do you remain curious if it is right for you? Lean into franchise investing a bit more with Postal Connections/iSold It's top executive Fred Morache.   For a fresh perspective and high-quality educational information on franchising, read the Franchise Fred blog. Check back regularly for new articles!